The Gliwice Radio Tower is the world's tallest wooden structure and the Germans faked a Polish attack on the radio station as an excuse to start World War II.
The radio tower in the Polish city of Gliwice is both a striking landmark and a building of historical importance. Gliwice is about 25km west of Katowice in the Upper Silesia region in southern Poland.
The tower is part of a broadcasting facility also including a radio station museum. While the site isn't one you would plan your itinerary around unless you are into war history or transmission towers, it's still worth a visit if you are passing by Gliwice on your road trip through Poland.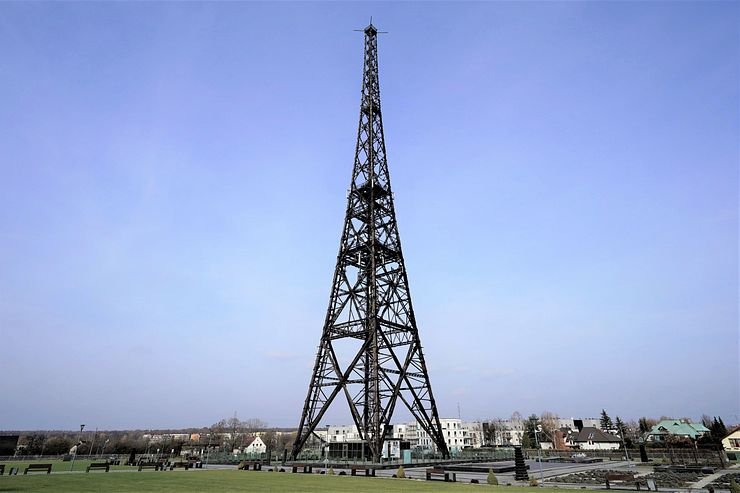 Gliwice radio tower.
The transmission tower is remarkable because it's the tallest wooden structure in the world. The radio station played a part in the events preceding the start of World War II when the Germans staged a false flag operation at the station to justify the invasion of Poland in 1939.
The Gliwice radio tower
Back in 1935 when radio transmissions from the tower started, the region was German territory. Gleiwitz is the German name for Gliwice and the official name of the tower was Sendeturm Gleiwitz. Locals called it the Silesian Eiffel Tower because of the resemblance to another more famous tower.
The tower is built of impregnated larch wood and it's the only remaining pre-war wooden radio tower. More than 16.000 brass bolts join the beams together. The wooden construction is 111m (364ft) tall and the tower is 118m (387ft) including the antenna on the top. When illuminated by eight large reflectors at night, the tower is visible from several kilometers away.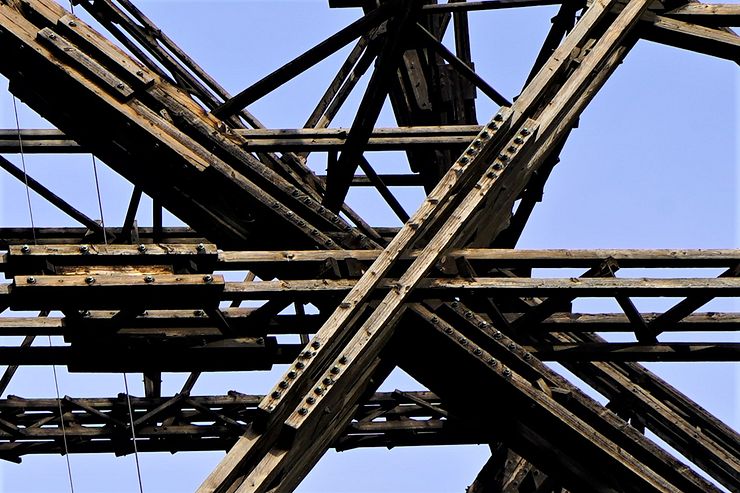 Gliwice radio tower wooden beams.
The German radio used the tower for medium wave transmission. After World War II, the tower remained in service for the Polish radio until 1955. The Soviets then took charge of the facility and used it to jam Western Europe radio stations broadcasting programs in Polish.
The Gliwice Radio Tower is 118 m (387 ft) tall (including the 8 m (26 ft) long spire on its top), with a wooden framework of impregnated larch linked by brass connectors. It was nicknamed "the Silesian Eiffel Tower" by the local population.[citation needed] The tower has four platforms, which are 40.4 m, 55.3 m, 80.0 m and 109.7 m above ground. The top platform measures 2.13 x 2.13 m. A ladder with 365 steps provides access to the top.
Timber structure
The tower is the tallest wooden structure in Europe. The tower was originally designed to carry aerials for medium wave broadcasting, but that transmitter is no longer in service because the final stage is missing. Today, the Gliwice Radio Tower carries multiple transceiver antennas for mobile phone services and a low-power FM transmitter broadcasting on 93.4 MHz.